Charlotte, NC Team
About Home Outlet
Home Outlet is a building materials retailer supplying homeowners/DIYers and professionals with expert advice and excellent customer service as they work to remodel or restore. Over 100 Home Outlet stores carry in-stock, quality kitchens, baths, flooring, windows, doors and more at the Guaranteed Lowest Price.
Next Level Ownership
Our employees give new meaning to "owning it" because they are part of a 100% employee-owned organization.
Benefits
Being a 100% Employee-Owned is just one of the many benefits of working with E.C. Barton & Company.
Health Benefits
Medical, Dental, Vision, Short and Long-Term Disability, and Life Insurance.
Employee Stock Ownership
E.C. Barton & Company invests in their partners and their futures by offering an Employee Stock Ownership Program.
Partner Discount
After 60 Days of employment, our E.C. Barton & Company divisions offer a discount of cost plus 10% to all partners.
Community
We love to give back to the communities who support us. E.C. Barton & Company proudly supports many community organizations.
Partner Assistance Fund
The ECB Partner Assistance Fund is being offered to our family of partners in an effort to share in the financial burden caused by unexpected life events.
Consistent Hours
In most cases our Partners are provided with regular schedules. This makes it easy to schedule appointments and events. And, our stores close no later than 6pm which means you'll be home in time for family dinner.
Partner Growth | Adam Brahm
Adam started out working in our warehouse after finishing college. Today, thanks to the commitment of our leadership, Adam is an analyst for our corporate Purchasing team. Watch the video to learn more about Adam's journey with ECB.
Our Customers Love Us
"Being a shopper there for over ten years, I have to say that all the employees there and the manager are very helpful, courteous competent, and pleasant. I just recently purchased a kitchen cabinet set from this location. Ziad had helped me numerous times trying to pick out the right cabinets and sizes for our home. He had been very patient and extremely helpful. This would be the second kitchen set my wife and I have bought from there, with both times Ziad helping us."
- Bill R. (Home Outlet of Brockton, MA)
"We've been remodeling & go into Home Outlet often!! They are all very helpful & super nice!! Yakira always helps us & she is SO hard working and one of the nicest people we've ever met!!"
- Gretchen W. (Home Outlet of Panama City, FL)
"I have used this location numerous times to find matching transitions moldings for LVP. I have found their selection and service to be more than adequate. No storage charge, no nagging phone calls to pickup, they just waited until the site was ready and happily helped me load. It was an easy and stress free experience!"
- Jonathan E. (Home Outlet of Dayton, OH)
Community Outreach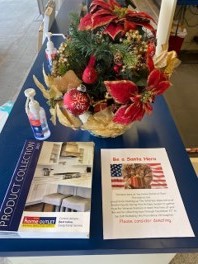 East Providence Toy Drive
Home Outlet of East Providence, Rhode Island teamed up with The Veterans Association of Bristol County during the holiday season to gather toys for Veteran Families in need.
Gloversville Santa Toys for Tots
Santa Claus, aka Area Supervisor of Gloversville John Howley, made visits to the Schenectady, Latham, Colonie, and Gloversville Home Outlet stores for the holidays! He also attended a charity event for his daughter's Helicopter company that benefitted Toys for Tots.
Backpack Food Drive Henrietta
Home Outlet of Henrietta had a very successful Backpack Food Drive! Their store decided to take their donations to FoodLink as well as the Rush-Henrietta School Food Pantry. All of the food in the photo above was donated in addition to 88 other donations made, totalling close to $60.