Bartons jobs
About Barton's
Barton's is a full-service lumber division that operates in Arkansas and Southeast Missouri. The stores carry everything homeowners and professionals need to build or remodel - from the lumber to the shingles and everything in-between.
Next Level Ownership
Our employees give new meaning to "owning it" because they are part of a 100% employee-owned organization.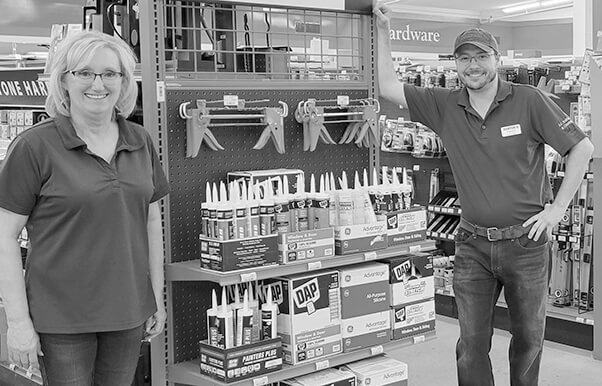 Benefits
Being a 100% Employee-Owned is just one of the many benefits of working with E.C. Barton & Company.
Health Benefits
Medical, Dental, Vision, Short and Long-Term Disability, and Life Insurance.
Employee Stock Ownership
E.C. Barton & Company invests in their partners and their futures by offering an Employee Stock Ownership Program.
Partner Discount
After 60 Days of employment, our E.C. Barton & Company divisions offer a discount of cost plus 10% to all partners.
Community
We love to give back to the communities who support us. E.C. Barton & Company proudly supports many community organizations.
Partner Assistance Fund
The ECB Partner Assistance Fund is being offered to our family of partners in an effort to share in the financial burden caused by unexpected life events.
Consistent Hours
In most cases our Partners are provided with regular schedules. This makes it easy to schedule appointments and events. And, our stores close no later than 6pm which means you'll be home in time for family dinner.
Partner Growth | Adam Brahm
Adam started out working in our warehouse after finishing college. Today, thanks to the commitment of our leadership, Adam is an analyst for our corporate Purchasing team. Watch the video to learn more about Adam's journey with ECB.
Our Customers Love Us
"Great company with really good people running it. They care about people and help the community a lot. Thank you Barton's!"
- Jason F. (Barton's of Jonesboro)
"Barton's is my choice to supply most of our building needs for our 140 rental units. They have tons of building materials in stock and a good selection of other miscellaneous needs. A great experience and very personal."
- Anonymous (Barton's of Jonesboro)
"As one of their original locations I've been shopping there my entire life. They are very knowledgeable. If you don't know what you actually need, they do. They treat customers with the best of service! They're also cheaper than the big chain hardware stores! I'd definitely recommend any given day!" - Daniel T. (Bartons of Kennett)
Community Outreach
Bartons Walnut Ridge
Barton's of Walnut Ridge was recognized by its community and local news station for their assistance during a storm that brought large hail and strong winds to northeast Arkansas. Store Manager, Spencer Ponder, and his wife came to the store and helped around 300 people in the community that suffered from storm damage.